Mar 13, 2012, 1:17 PM EDT
Episode 7 of "Harassing the Pros with Josiah Schlatter" features the one and only Misty May-Treanor, as she expounds on never getting to live in the Olympic Village, her burgeoning golf and auto racing careers, marrying a Major League Baseball player and if this is her and Kerri Walsh's last stand as an Olympic duo. You can click here for the podcast audio, or read the transcript below.
You were on Dancing With the Stars a couple years back and you tore your Achilles. How have you recovered from that? Doing better?
Great, yeah. It's fine. We're ready to gear up for London.
How are you and Kerri doing? Still got that same fire?
Yes we do. We have our Jedi mind tricks down. It's a thing to experience.
How'd you develop that?
Years and years of playing together. I think it develops over time.
You were the first person to get slapped on the butt on camera by a President (GW Bush). How was that?
Uhh, good. We had met earlier and he was hitting my tattoo because I was cracking jokes about him getting a tattoo.
That's pretty cool, getting slapped by a President.
Uhhhh, me and him go way back. He's a really neat guy and it was fun to see him at a Rangers game.
How'd you guys become friends?
I'd only met him when we got tickets to the Rangers game, pre-Olympics. Athletes were invited there so we got introduced to him before the game.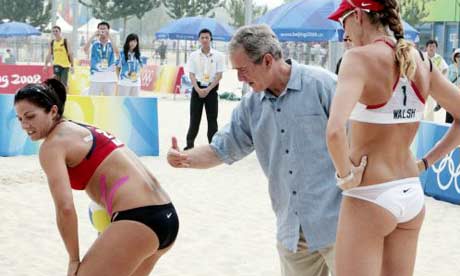 You've been in the Olympics for awhile, how are the Olympic villages?
It probably would be an amazing experience but we never get to do it because we always stay out by our venue. Our venue is farther away so we never get to stay in the village during competition.
Are you okay with staying out by your venue or are you going to ask them if you can spend time in the village?
I'm okay with being away and focusing.
Do you still have complete 100 percent confidence, even with your combined ages and your Achilles injury, to take home a third straight gold?
Yeah, Kerri and I are going to do everything we can in our powers to make that happen. We're working very hard in the sand and the gym training because we know we have a big target on our backs.
I heard you took up some coaching during the break between Olympics.
I've coached in the past even before Athens. It's a passion of mine. I like teaching to people that want to learn, young kids who will fill our spots when we're done.
Your husband (Matt Treanor) is a professional baseball player for the Dodgers now. That must be pretty cool, no?
Yeah, I went to a college that was good for baseball as well. I just didn't know much about the game until meeting my husband, but it's fun and he's with the Dodgers now so we get to spend a lot of time at home which is nice.
Home is LA?
Yep, we live in Long Beach. I went to school in Long Beach so we had a house there and a house in Florida. Love the house in Florida. But we're both from the Orange County area.
When did you realize you were one of the world's best volleyball players, did it come out of the blue or were you always awesome?
I'm still trying to work on that. I'm glad you think so. I think I get a lot of help from being with Kerri on the court.
Would you view the Olympics as the coolest thing to happen to you? If I were an Olympian that would be true for me.
I mean, we get to do something extraordinary that not many others get to do and we also get to take in the Olympic movements and not many people have the opportunity for that. We're very lucky for our careers and lives.
Any other sports you excel at?
Funny you mentioned Tiger Woods earlier because I've been picking up golf. It's a very humbling sport. Auto racing, I did a celebrity grand prix so I went to a race car driving school for a little bit.
Do you plan on winning a celebrity grand prix pretty soon?
No, I got to do it one year. So I had new-found respect for auto racing.
I got to take a lap around the track in Las Vegas a couple months back and it felt like a thousand pounds of adrenaline was coursing through my body, so insane.
Oh yeah, it's fun. I had a headache every day from having to think so much.
Do you see another Olympics in your future or is this the Misty May Kerri Walsh last stand?

Don't hold your breath (laughs). I'm just thinking about this Olympics and we'll go from there.
Take it year by year?
Yeah.
What if you recruited some WNBA players who weren't really cutting it in basketball. Would that work, or is that not something you can just pick up and play at an Olympic level?

No. There have been a lot of basketball players who have transitioned to volleyball. The foot speed is a concern, but they're tall and athletic.
Do you think Diana Taurasi, for example, could transfer over?

I think she'd be similar to me, a defensive player who can get down in the back.
How great does it feel to spike the ball?

Oh, feels great. I'm the shorter of the two so people go after me so I have to maintain my strength and hit the ball as hard as I do at the beginning of tournaments.
Can you touch rim on the basketball hoop?

In college we all had to touch rim and I was a high jumper in high school. I'd like to do it again. With the Achilles my jump might be down a little bit. It's a good goal, get back to the rim again.
Have you ever dunked?

No.
I bet you could at one point!

Oh, I don't know about that because you have to be able to palm a basketball.
Or you could go dunk with two hands.

Yeah.